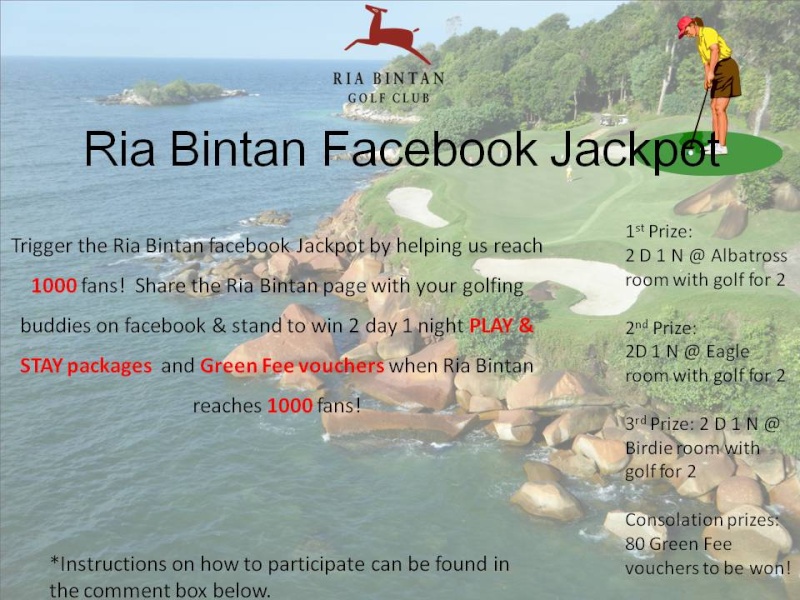 Share this picture in your personal pages with the text " Trigger the Ria Bintan Jackpot by helping us reach 1000 fans! Share the Ria Bintan page with your golfing buddies on facebook and stand to win PLAY & STAY packages and Green Fee Vouchers when Ria Bintan reaches 1000 fans.
www.facebook.com/riabintan
"
Terms and conditions.
1)Winners will be picked randomly from those who tag Ria Bintan in their personal pages. The more times you tag, the more chances you attain.
...2) Play & Stay packages do not include 2-way ferry ticket and express immigration clearance.
3) Ria Bintan reserves the right to extend/cancel the contest at its discretion.
4) 1000 Fans must be attained before jackpot is triggered and prizes disbursed.
5) Ria Bintan's decision is final.
6) No further correspondence will be entertained after winner's announcement.
7) Prizes not claimed after 1 month after announcement on facebook, will be disposed at Ria Bintan's discretion.
8) Winners will be announced on facebook on the 04/04/11 or when 1000 fans is reached.