Enter the FJ Wins You Win contest and stand a chance to be fitted out with FJ Sports Golf Shoes and FJ StaSof Glove, similar to the gear FJ ambassador Adam Scott wore enroute to victory at the Masters.
http://www.footjoy.com.sg/contest/fjwinsyouwin/entry.asp
Contest ends on 21 April and is open to Singapore and Malaysian residents age 18 years and above.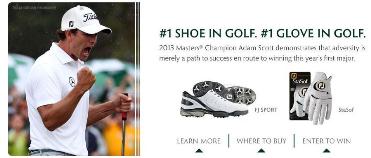 This is Adam's first Major Championship and first Master's Championship for an Australian born player.
"All of the power is coming from the ground and my connection to the ground is through my shoe, so I believe I need to be in control and connected to the ground throughout my golf swing and I believe the FJ Sport can do that for me." said Adam Scott on why he chooses FJ Sport. Continuing, "All the feel in this game comes through your hands and I choose StaSof because it gives me the feel I am looking for in a golf glove."
Find out more at www.facebook.com/FootJoySEA or www.footjoy.com.sg