Has time run out for Tiger Woods?
The clock ticks. No one wants to hear the sound. Few pay attention, particularly athletes. They believe they'll always be young until suddenly they're not.
A golfer's career is long, longer than careers in other sports, but it is not forever. The opportunities get fewer as the months and the tournaments go by.
Six years ago, 
Tiger Woods
, even with a serious knee injury, won the U.S. Open, his 14th major championship. He was 32.
Surely, we thought he would take at least another major or two, maybe even the four needed to tie the great Jack Nicklaus' record of 18.
We were wrong. Tiger hasn't won any.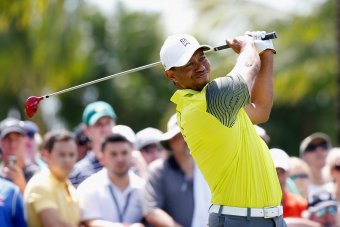 Chris Trotman/Getty Images
Now, he misses his first Masters since turning pro in the autumn of 1996, having undergone back surgery Monday for a pinched nerve, as announced
on his website
.
Tiger has been remarkable, yet that was then, and this is now. It is not unreasonable to suggest Woods' time as a major winner is over.
"I think there are windows,"
Tom Watson said
before the 2013 Senior PGA Championship at Bellerive CC in St. Louis (via PGA.com). "You look at the great champions, with a couple exceptions, like maybe Nicklaus, and maybe Woods and (Sam) Snead, they all had their really productive years in a short period of time. Six or seven, eight years like that."
Woods won majors over 11 years, from that 1997 Masters when, as a rookie, he rewrote history to that '08 Open at Torrey Pines. However, for nearly six years, he's come up empty.
He had his chances, but unlike his earlier days, he couldn't finish. In fact, in the 2012 U.S. Open at San Francisco's Olympic Club, tied for the lead halfway, Woods finished the final 36 holes eight-over par to tie for 21st.
A year ago, Woods had a shot ricochet off a flagstick into the pond at 15 during the second round of the Masters and never quite recovered.
At Merion, in the 2013 U.S. Open, he came in at 293, 13-over par, his career-worst score in a major. "I did a lot of things right," was his explanation, "but unfortunately I did a few things wrong as well."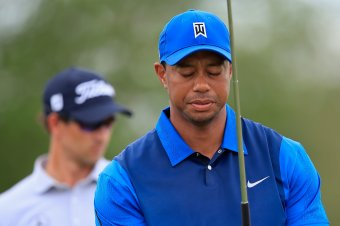 Jamie Squire/Getty Images
When you shoot 13 over, it's more than a few.
A month later, at Muirfield in Scotland, very much on the leaderboard for 54 holes, Woods stumbled into a three-over 74, eight shots behind
Phil Mickelson
's magnificent final round.
"We all go through these phases," said Woods. For him, it's only of late.
In 2000, Woods won the last three majors of the year, the U.S. Open, British and PGA—Ben Hogan is the only other golfer to win three pro majors in a calendar year—and then opened 2001 with a victory in the Masters. He was unstoppable.
Nicklaus, indeed, did win the Masters at age 46, and Julius Boros won the 1968 PGA at 48, the oldest major champion ever. Tom Watson gave it a memorable run and us a thrill in the 2009 British Open, at age 59, leading through 71 holes. Then he bogeyed the 71st and got swamped in a four-hole playoff by Stewart Cink.
Age finally caught up with Watson as much as Cink did.
The problem wasn't distance or accuracy, although rare is the golfer whose nerves enable him to putt better as he grows older. The failure comes in the inability to concentrate.
Too many thoughts drift through the mind during a four-and-a-half-hour round, most significantly that of making history with a win. Wouldn't it have been a story? It was an almost, a tease, but not a championship for Watson.
Mickelson was 43 when he surprised himself and others who didn't think he could play linksland courses as he took the British Open last summer. Yet, most of the major champions are in their 30s.
Not too long ago, in December, during his own little charity event at Sherwood Country Club in Southern California, the Northwestern Mutual Challenge, Woods was asked how many years he would enter the Masters.
As a Masters champion, he is exempt until age 60 under the new rules. Before the change, Arnold Palmer, in the end more ceremonial than competitive, played 50 straight, until he was 74.
"I'm not going to beat Arnold's record," Woods insisted, drawing laughter from the media. "I'm not playing that long. You know me. I always want to win. So if I can't win, why tee it up?
"That's just my personal belief. And I know what it takes to prepare to win, and what it takes to go out there and get the job done. There's going to come a point in time where I just can't do it anymore. We as athletes face that moment."
What Tiger Woods faces as he recovers from back surgery is the possibility he's never going to win another Masters—or any major. Tick, tick, tick. 
Art Spander, winner of the 2009 Lifetime Achievement Award in Journalism from the PGA of America, has covered more than 145 major golf championships. Unless otherwise noted, all quotes were obtained firsthand.