I thought I would post a report on Edgar Oh's week at the Singapore Open. For those that do not know, Edgar became the youngest ever player at 14 y/o to qualify after his win in the Singapore Amateur Open earlier this year. I have been coaching Edgar for the past 1.5 years and it was a great experience to make it to the Open.
Here is a brief report of the week
Singapore Open – Field Report
Preparations for the Singapore Open commenced months before the tournament. A lot of hard work and practice was done correcting technical issues with swing and short game. Edgar's game has been great for some time and the plan leading into the Open was to make any changes 2 weeks before, work on it and then just fine tune and monitor leading up to the tournament.
I had already planned to got for holidays back to Australia the week before the tournament. This was not ideal but could not be avoided. Edgar plays his best a couple of weeks after we do a lesson as he needs time on the range to get adjusted to any changes. From previous history, if he has a lesson close to a tournament he does not play his best so we based our preparations on this.
I left for Australia and his game was in great shape. Unbeknown to Edgar, my colleague Chris Marriott had organised for Edgar to play a practice round with Adam Scott. Chris knows Adams father very well and made a call to him to arrange the game. He obliged and the plan was to play on the Tuesday on Tanjong course. This would be a great opportunity for Edgar and an experience he will never forget.
Knowing Edgar and his personality, Chris and I decided not to break the news to him about Adam Scott until the day before as he would have been too excited and may have lost focus on his preparations.
While in Australia I sms Edgar to see how his game was and to my surprise, he was a nervous wreck and had suddenly developed a bad case of the hooks with his driver. Being thousand of miles away, and not returning till the day of the practice round with Adam I could not help. Luckily it was great to have my colleague Chris be able to step in and help Edgar get his swing back on track. As we have both worked with him during sports school training and both teach exactly the same Right sided swing, it made it easy to sort out his hooking driver. A true plus for having a swing model and a method to swing the club.
Monday Practice Round
Chris who also coaches Scott Bar, had a practice round organised on the Monday for Edgar and Scott. They were to play Serapong and Scott was going to guide him around and give him some advise on the best way to play the course. Unfortunately Scott was requested by the tour to play in the pro am that afternoon so Edgar had to go out on his own. He was the first player to tee off and got a look at the difficult and long Serapong course. The feedback I got from Chris was that the course played extremely long for Edgar due to the wet, soggy conditions but his game was really good. The greens were extremely fast which took some adjusting too. The signs were positive for a good week.
Tuesday with Adam Scott
I flew back to Singapore late on Monday night and the practice round with Adam was scheduled for 8am tee off. I arrived but unfortunately the course was closed due to the weather. Edgar got to meet Adam in the clubhouse and it was then a long anxious 2.5 hour wait for the excited teenager before he would be able to commence play.
After the delay, the guys went to the range to warm up and then headed to the first tee. Due to the delay, many pros were waiting at the tee to hit off and here I could see the nervousness as Edgar awaited to tee off. He had to step up onto the tee with about 10 other tour pros watching him and he handled himself very well. His first drive was not his best but it managed to find the left rough. He was away and I could see the relief on his face once he started to walk down the fairway.
It must have been a nerve racking experience but he handled it well.
After a couple of greens in regulation, Edgar started to relax and when he got up on the 3rd tee, he nailed a drive about 250m down the middle and away he went. He played some great golf and had a good chat with Adam about tour life. Adam was great to Edgar and really made him feel comfortable and encouraged him along.
I was very impressed with Adams driving. I had my bushnell and measured a few of his drives that day. The course was wet and he was still getting them out between 275 and 290 metres but always straight. His putting looked very shaky however. All in all he was a very nice guy.
After the round, Adam wished Edgar all the best and gave him great praise for his swing and game.
A great experience for the young man and a day I am sure he will never forget.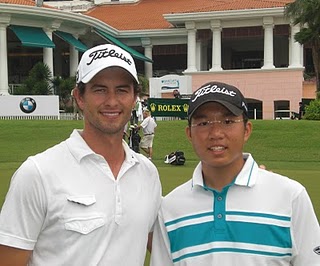 Wednesday Practice
On the Wednesday we had organised to just play 9 holes with Scott Barr. A good relaxing day before the tournament started. We spent some time on the range and fine tuning the putting and everything was starting to peak at the right time. I also took the opportunity to video some of the other pros on the range while I was there and looking back at the videos, was shocked at some of the ways these great players could swing the club and still get the great results they were getting. I may do a thread on some of these swings at a later date.
After playing 9 holes with Scott Barr, Edgar was more impressed with Scotts ball striking than Adams. Scott who is a right sider has been playing great this year and Edgar really got inspired after seeing him hit the ball. He said to me after Scott hit a 7 iron about 10 feet from the hole and got disappointed "why he not happy with that.....so good ha"
The draw had come out for round 1 and Edgar was to play with Jyoti Randhawa and Australian Richard Moir. The tee time was 7.50am on Tanjong course which was a good draw.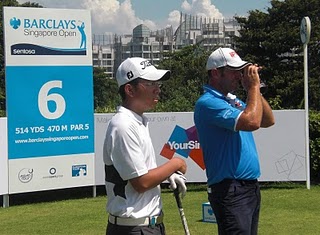 Thursday, Round 1
Today would be the day that Edgar Oh would make Singapore Open history by becoming the youngest ever player to play.
The day started early with about 50 balls on the range. He didn't have a great warm up and some shots were going a bit offline. Now was not the time to be correcting any technical issues so I kept my mouth shut and trusted that he would find his swing once he got out onto the course. I am sure he was very nervous and that was contributing to this. We then went and hit some chips, bunker shots and finished with some putting.
Off to the first tee we went and now I was feeling nervous for Edgar. This was also my first big tournament coaching a player so it was all a new experience for me as well.
Unfortunately the nerves got the better of Edgar on his first drive and he hit the ball left and it ended up in a drain which was unfortunately a hazard. After taking a drop he then hit his next on the green about 25 feet away. A bogey would nit be such a bad start however he "chionged" the putt and 3 putted for a double bogey. Not the start he wanted but it was done so now the fight back would start.
Holes 2,3 and 4 were very solid pars with near misses for birdies. He then birdied the 5th and was back on track. The rest of the round he played great golf and didn't make a mistake. Standing on the 18th tee he was at 1 over par and hit a decent drive. His second shot was his best for the day, finishing about 3 metres from the hole for a birdie. I was thinking worse case he 2 putts for a par and a score of 72(+1). Best case he hole the putt and finished even par.
Well you should never get ahead of yourself in this game and to the suprise of us all, Edgar unbelievably had a 14 year old moment and 5 putted the hole to make a 7 and shoot 75 (+4)
How quickly things can change in this game and the 75 did not reflect how well this young man played and handled himself in such a big event.
Obviously he was disappointed with his last hole but I kept reinforcing to him how well he had played. Apart from his first and last hole, he was -1 for the other 16.
As a young determined kid does, straight after he signed his scorecard he had his putter out and was heading for the putting green to practice. Not even myself or his parents could get him to sit down and relax. He just wanted to go out and practice some more. It shows the determination and drive he has to be the best he can be.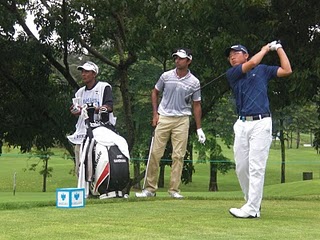 To be continued